.: Raqchi templo de Wiracocha :.
Length        : 1 day

Height         : 3500 m.s.n.m

Fate            : Cusco – Raqchi

Season        : All year
| | |
| --- | --- |
| | Recommendations : A small backpack, hats for the sun, camera and batteries, water bottle. |
| DESCRIPTION |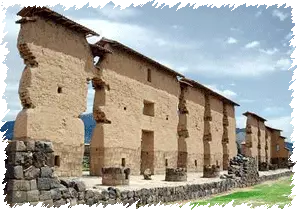 Raqchi also called temple Wiracocha
A soon as we are together we start a guided visit to
Raqchi archeological
place where the Inca fortress or more known as the Wiracocha Temple. This temple according to an
Inca
legend was raised after all the town would be ravaged by a volcanic eruption due to
God Wiracocha's
anger; In fact this area is surrounded by volcanic stones that were use to build a great temple offered to the Wiracocha God at the beginning of the Inca age. Raqchi's villagers dedicate to the production of ceramic staffs, hand-made products
| INCLUDES |
Picking up the passengers from their respective hotels from 8.30 to 9.00am in the morning (or a meeting point in the main square plaza de armas).


Private transportation.


Official guide's service in English and Spanish.


Pack lunch.


| DO NOT INCLUDE |
Entrance ticket to Raqchi archeological complex


| WHAT WE RECOMMENDED TO TAKE |
Personal water bottle and snacks.


A light back pack.


Hat preferably something covers your neck.


Sun bock (sun is always stronger in such altitude).


Rain wear (you never know when will rain even if it's the dry season).


Camera.


| DEPARTURES |
| DURATION |