.: Inca Trail 2 days :.
The best tour to learn about Cusco and its history
Duration 

: 2 days / 1 night

Height    : 2,150 msnm



Fate  

     : Cusco – Machupicchu – Aguas Calientes



Season 

: All Year
Recommendations

: Is recommended caps or hats, sunscreen, sunglasses, light clothes for hours in the afternoon sun and it is advisable to bring warm clothing, mineral water, fruit or something from the tourists' taste for travel.
DESCRIPTION
This is one of the most fabulous journeys, where we cover the most beautiful archaeological sites and be able to appreciate the magnificent Machu Picchu.
ITINERARY
Day 1: Cusco – Machupicchu – Aguas Calientes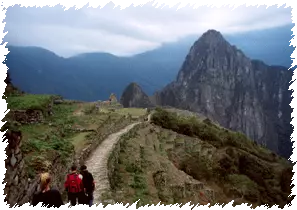 Picking up the passengers from their hotels between 5.00 - 5.30am by bus and go to the
Cusco
train station (San Pedro's), the journey will take about 3 hours to get to a place call 104 km from
Cusco
From here we have to check in at the checkpoint first. After this we start our long walk toward the archeological complex of Chachabamba which is 2150 meters above sea level, and then we will undertake a long walk of 8 kilometers which should take about 4 hour long to get to
Wiñayhuayna
2700m archeological complex. This impressive complex is a little citadel that consists of an agricultural center with numerous terraces, a religious and an urban sector. From here we can see the bottom of the Urubamba river Valley, also a view of
Choquesuysuy archeological complex
placed on the other side of the river, during this journey a beautiful waterfall will be able to be observed located, which is few some minutes walk away from Wiñayhuayna. Then we will walk toward
Intipunku
(the sun's Door) this will require about a onehour walking, on the way we will see some flat stones on the verge of mountain cliffs border. Machu Picchu's sacred Citadel in its entire splendor will be able to be observed from intipunku. We will descend toward Machu Picchu from Intipunku and then we will take the bus that will take us to Aguas Calientes. We will spend the night at a hotel.
Day 2: Aguas Calientes – Machupicchu – Cusco
In the morning we will take the bus to Machu Picchu's Citadel, after the entrance checkpoint, we begin our visit to this
archeological
site with a guidefor two hours and we will be able to appreciate the architectonic wonder of
the Inca
culture. After this you will be able to have some free time to wonder around the Citadel or if you like to climb up the
Huaynapicchu's mountain
(Young Mountain), from where you can observe the citadel of
Machu Picchu
completely, valleys and mountains that surround this complex or going to the temple of the moon and seeing an Inca bridge. In the afternoon we will return to Aguas Calientes there exists some pools of hot spring where you can relax for some time. Later on we are taking the pullback train back to Cusco.
INCLUDES: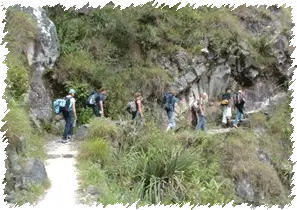 Transportation by train to head of trail (104 Km.).
Train ticket back to Cusco.
Entrance ticket to Inka Trail and Machu Picchu.
Bus tickets Machu Picchu / Aguas Calientes / Machu Picchu.
01 night accommodation in Aguas Calientes (inc. breakfast).
First aid kit.
Oxigen.
Professional guide.
Food: 1 breakfast at the hotel / lunch box / 1 Lunch / 1 Dinner.
Ticket entrance to hot springs.


DO NOT INCLUDE:
Lunch and dinner on the last day.
Bus ticket from Machupicchu –Aguas Calientes.
Aguas Calientes hot springs entrance fee which cost US 3.00 dollars , which are located at about 10 minutes walk from village.


WHAT WE RECOMMENDED TAKING: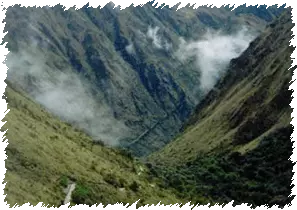 Passport.
Basic first aid kit.
Headlamp/flashlight.
Warm top/bottom for the evenings.
Hiking boots; runners are possible if you don't mind them getti9ng thrashed by the rocky trail and you have strong ankles.
Wash kit, 2L water bottle and water purifying tablets.
Cash to tip porters/guides, buy snacks and water along the way.
Hat preferably something cover your neck.
Rain wear (you never know when will rain even if it's the dry season).
Camera.
Insect repellent and sun bock (sun is always stronger in such altitude).
Personal toilet items.
A light back pack.
Gloves, scarf, wool socks.
A towel and toilet paper.


OPTIONAL SERVICE:
If you want to upgrade your hotel you need to pay the additional cost.
Extra night in Aguas Calientes, you need to pay the additional cost for the hotel.
If you wish to visit Machupicchu again on the following day, you need to pay the additional cost.


AVAILABLE DISCOUNT:
Students: (the students require an identity document proof, international valid Isic Card for students and they should not be over 26 years old).